Chef Jobs from  TOPCHEFS Careers and Recruitment
Select Chefs Jobs for Selective Chefs and Clients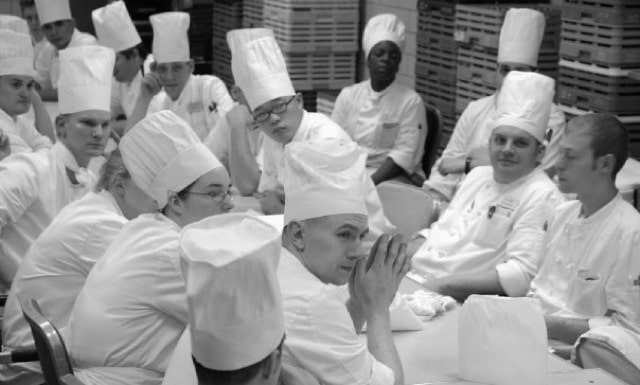 Marcus Theatres
Published: July 24, 2017
Description
Kitchen Manager – Palace Cinema – Sun Prairie, WI
We make ordinary days extraordinary for our guests and your career could be extraordinary with Marcus Theatres.  We have 68 theatres in 8 states, where you can begin a career with limitless growth potential!  With expanding food and beverage operations, we're looking for a talented individual interested in furthering their potential to join our team as a Kitchen Manager at Palace Cinema, in Sun Prairie, Wisconsin.  You will guide our culinary team from our scratch kitchen, in creating polished, yet unpretentious dishes that cater to our guests' dining experience that they will savor long after they have taken the last bite.
The Marcus Palace Cinema in Sun Prairie is a brand new state-of-the-art cinema with 12 auditoriums, each with comfortable DreamLounger™ recliner seating. There's two UltraScreen DLX®auditoriums, which have massive screens, Dolby® Atmos®multidimensional sound and the DreamLounger recliner seats. Plus there's plenty of food and beverage choices including a Take Five® Loungefor casual dining indoors or on an outdoor patio with fire pit; a Zaffiro's Express, known for its THINCREDIBLE® pizza and more; and four Big Screen Bistro auditoriums, which offer full-service, in-theatre dining.
Founded on November 1, 1935 with a single movie theatre in the small town of Ripon, Wisconsin, Ben Marcus began what has become an entertainment and lodging empire. Ben was said to have always hired the best people he could find, surrounding himself with experts – a practice the company continues to this day.
The importance of family has always played a vital role at the Marcus Corporation.  No matter what your last name, every associate of the Marcus Corporation is a part of the Marcus family, and we look forward to adding you to that list!  Marcus Theatres offers a comprehensive benefits package, and extraordinary extras, to keep our employees happy and healthy, both on and off the clock.
As a Kitchen Manager, you will train, supervise and actively support hot/cold food production ensuring high operational standards of quality and care are maintained.  You will also supervise and manage culinary trainees and employees as assigned.
Responsibilities
1.  Oversee and supervises daily line operation.
2.  Prepare all food items for banquet and restaurant use according to standard recipes.
3  Visually inspects and samples all food for proper taste, color combination and overall presentation to maintain appeal.
4.  Schedule appropriate number of staff according to daily needs for banquet functions, theatre show times, and weekly forecasts.
5.  Supervise all assigned staff including training, counseling and discipline.
6.   Ensure proper ordering, receiving and storage of all food items in refrigerators, freezers and dry food storage to maintain product freshness.
7. Perform daily duties and special projects.
8. Responsible for ordering of food for the following days
Mandatory Job Requirements
1.  Alert and clean (hygiene)
2.  Excellent hand dexterity and coordination
3.  Sense of smell, taste and touch
4. Sensitive to hot and cold temperatures.
5. Able to lift over shoulders and be on feet (balls) for entire shift
6. Able to bend at waist, back, knees, etc. with very limited or no limitations
7. Friendly and polite, works well as part of a team
8. Self-motivated and self-starter, able to work alone and remain focused.
9.  Above-average working knowledge of accepted sanitation standards.
10.  Ability to read, write and understand the English language in order to complete requisitions read recipes and to communicate with other associates.

Accountability
Properly rotate food products in order to keep spoilage and waste to a minimum.
2.  Ensure all equipment in work area is properly cleaned and sanitized.
3.  Perform other duties as required, e.g., special orders/modifications, food orders by ticket.
4.  Maintain banquet event orders and food delivery requests per daily guidelines.
5.  Attendance in conformance with policy standards.
6.  Due to the nature of the hospitality industry associates will be required to work varying schedules based on business demands and levels.
7.  Fully comply with Marcus Theatres' policies regarding the safe and efficient operation of kitchen equipment and facilities.Experience or Training Required
Minimum of two years' experience in a supervisory and/or management position in a similar size operation.
2-3 years as a lead cook required prior to management.
Thorough working knowledge of specific food preparation.
Above average working knowledge of accepted safety and sanitation standards.
Extensive experience with slicers, mixers, grinders, food processors, etc.
Basic mathematical skills necessary to understand recipes, measurements, requisition amounts and portion sizes.
License or Certification Required
Any combination of education and experience equivalent to graduation from high school or any other combination of education, training or experience that provides the required knowledge, skills and abilities.
High school diploma preferred.
Culinary or apprenticeship program preferred.
Ability to obtain any government and hospitality required license or certificate.
Example State Health Card Permit, Local Food Service/Handling Permit, State Liquor Service Permit, etc.
Don't See The Right Chef Job For You?
We don't advertise every 
Chef Job
 we're working on because we often have the right chef on our Chef Database already and so advertising the Chef Job here on our own Jobs Board, or elsewhere, is both unnecessary duplicates our work. That's why we encourage you to use the button below to upload your Chef CV, or Resume, so that you're on our database; that makes it easier for us to find and contact you when the right chef job does arrive on our desk.
To learn more about TOPCHEFS and to obtain full and up-todate information on the wide choice of jobs we have on offer call us on (01) 633 4053. In the business of managing your career, it's the only number you'll ever need.