Chef Jobs from  TOPCHEFS Careers and Recruitment
Select Chefs Jobs for Selective Chefs and Clients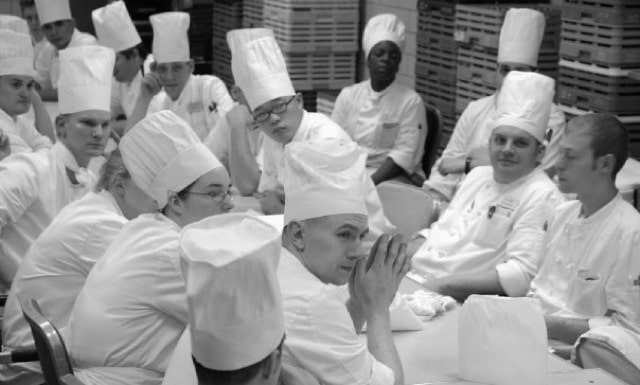 Restaurant
Published: September 28, 2017
Description
We are looking for "

SUSHI

CHEF

" for Saudi Arabia (Riyadh Location).

2 Years Contract will be there

Chef

must knows how to make Maki -

sushi

 Nigri,Sahimi, Tempura.

Should have min 6 Months - 5 Years experience.
Summary Of ResponsibilitiesReporting to the Executive Chef , responsibilities and essential job functions include but are not limited to the following:
Offer a unique combination of restaurant, catering and special event experience to customers.
Consistently offer professional, friendly and proactive guest service while supporting fellow Colleagues
Demonstrates high-level knife skills and special skills associated with

sushi

prep, production and presentation.
Stores foods in designated areas following corporate, state and federal food safety and sanitation procedures.
Ensures proper food handling, presentation, portion control and maintenance of appropriate serving temperatures.
Maintains sanitation of all equipment, supplies and utensils within work area; cleans workstation thoroughly before leaving the area; keeps display equipment clean and free of debris during meal service to assure compliance with all sanitation, ServSafe, safety, OSHA, production and merchandising requirements.
Interacts with customers to enhance dining experience; demonstrates a complete understanding of daily menu items and is able to accurately explain them to customers and associates.
Keeps up with peak production and service hours.
Relieve cooks and help in various areas of the Kitchen as required
Use a broad knowledge of cooking techniques and food styles to ensure consistency
Actively share ideas, opinions and suggestions in daily shift briefings
Maintain proper rotation of product in all chillers to minimize wastage/spoilage
Have full knowledge of all menu items, daily features and promotions
Follow kitchen policies, procedures and service standards
Follow all safety and sanitation policies when handling food and beverage
Primary LocationKingdom of Saudi Arabia-Riyadh
Qualifications
Strong interpersonal and problem solving abilities
Highly responsible & reliable
Ability to work well under pressure in a fast paced environment
Ability to work cohesively as part of a team
Ability to focus attention on guest needs, remaining calm and courteous at all times
Benefits

Food , Accommodation and other allowances
Visa RequirementsEligible candidate will be provided visa to have work permit required as per the local law.
Interested Chefs please share resume on the same.

--Regards,HR Team
Dir: +91-8980018740
Don't See The Right Chef Job For You?
We don't advertise every 
Chef Job
 we're working on because we often have the right chef on our Chef Database already and so advertising the Chef Job here on our own Jobs Board, or elsewhere, is both unnecessary duplicates our work. That's why we encourage you to use the button below to upload your Chef CV, or Resume, so that you're on our database; that makes it easier for us to find and contact you when the right chef job does arrive on our desk.
To learn more about TOPCHEFS and to obtain full and up-todate information on the wide choice of jobs we have on offer call us on (01) 633 4053. In the business of managing your career, it's the only number you'll ever need.