Chef Jobs from  TOPCHEFS Careers and Recruitment
Select Chefs Jobs for Selective Chefs and Clients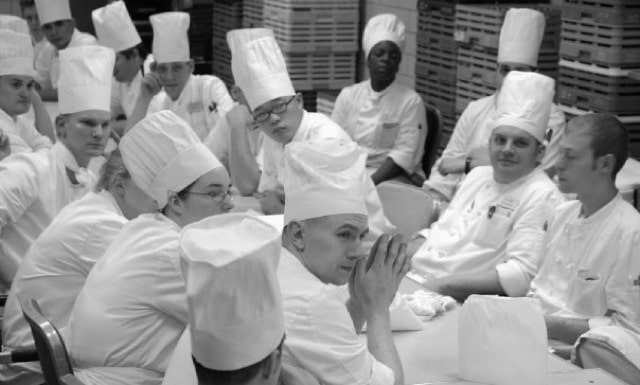 UNC Health Care
Published: June 27, 2017
Description
Location: UNC Medical Center
Shift: 40 Hours/week. Between 10am-10pm, Afternoon/Evening Shift, EVERY Weekend

Candidates must be able to read and follow recipes including weighing and measuring ingredients. Cooks are responsible for preparing food and performing tasks such as cleaning and quality assurance.
Preferred Candidates will have:
* Experience with fast paced, high volume scratch cooking
* Experience in Restaurant, Healthcare, Hotel or University cooking
* Experience cooking scratch meals using detailed recipes
* Excellent customer service skills
* Culinary certification and/or degree
Job Summary:
Cooks and prepares food and performs related tasks such as clean up and quality assurance activities.
Description of Job Responsibilities:
1. Cooks food, including pastries desserts, and soups, according to recipes. Completes basic mathematical calculations to alter quantities as
needed.
2. Ensures quality of foods. Assists in testing and standardizing recipes maintains proper temperatures for food.
3. Operates and cleans all production utensils and equipment. Maintains cooking area in a sanitary, neat and orderly manner.
4. Prepares complete meals and special events foods. Arranges food in an appealing manner.
5. Prepares food, including meats, vegetables, salads, desserts, and soups for regular, modified, and calculated diets using weighing and measuring techniques.
 High School diploma or GED or the ability to read and comprehend simple instructions, short correspondence and memos, and the ability to write simple correspondence. One (1) year of experience in the cooking of food in quantity lots or an equivalent combination of education and experience.
Don't See The Right Chef Job For You?
We don't advertise every 
Chef Job
 we're working on because we often have the right chef on our Chef Database already and so advertising the Chef Job here on our own Jobs Board, or elsewhere, is both unnecessary duplicates our work. That's why we encourage you to use the button below to upload your Chef CV, or Resume, so that you're on our database; that makes it easier for us to find and contact you when the right chef job does arrive on our desk.
To learn more about TOPCHEFS and to obtain full and up-todate information on the wide choice of jobs we have on offer call us on (01) 633 4053. In the business of managing your career, it's the only number you'll ever need.